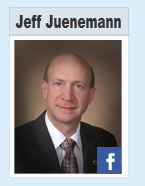 Jeffrey G Juenemann – President
After graduating in 1980 from Michigan State University and working in his father's insurance agency Jeff Juenemann bought Hamzey Insurance of Westland, MI. Since 1982, Jeff Juenemann has owned and operated the agency located on Ford Rd. in Westland. The agency has grown by representing competitive companies and fulfilling the customer's needs. During the early years the agency joined and remains active with the Westland Chamber of Commerce and Westland Rotary Club. Jeff has served in past years on the board of directors and as president of both organizations.
---
Fay – Personal Lines
Joining the agency in 1984, Fay has helped the agency grow. Her focus is personal lines customer service. Having been with the agency since the early years Fay has helped so many of our agency customers through the good times (new home and auto purchases) as well as the bad (claims). She looks forward to hearing from you on your next call.
---
Becky – Commercial Lines
She has more than 20 years of insurance experience. Becky joined our agency in 2006. Being a licensed solicitor, Becky can assist our business customers with any of their coverage and claim service needs. She's concerned that the coverage we provide is broad while the premiums remain competitive. Friendly service keeps our customers renewing current coverage and asking for additional policies.