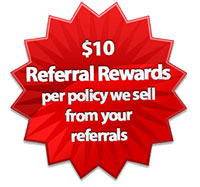 Looking for honest, careful, friendly new clients…LIKE YOU!
We rely on our customers to refer family, friends and co-workers. A referral is the highest form of flattery. If you are happy with our service and we have gained your trust, please share our name with others by completing the form below.
You will be given $10 Referral Reward per policy we sell from your referrals!
*Denotes Required